Purchasing a roof top ski or cargo box is a great way to add space and carrying capacity to your vehicle without buying a larger vehicle. Roof boxes can be used to carry various types of gear such as camping gear (tents, sleeping bags, sleeping pads, chairs), ski equipment (skis, snowboards, poles, helmets), outdoor gear (climbing equipment, cycling gear, paddling gear), or general luggage and baggage. Mounting a roof box on the top of your vehicle allows you to add space when you need it most and drive a smaller more fuel efficient vehicle for the rest of the year!
Here at Racks For Cars we carry over 50 models of roof boxes. With so many choices it can be tough to decide which model is best for your vehicle and carrying needs. We hope this buying guide will help you narrow down your options. If you live in Edmonton or the surrounding area feel free to drop by one of our store locations where we display over 30 models of roof boxes.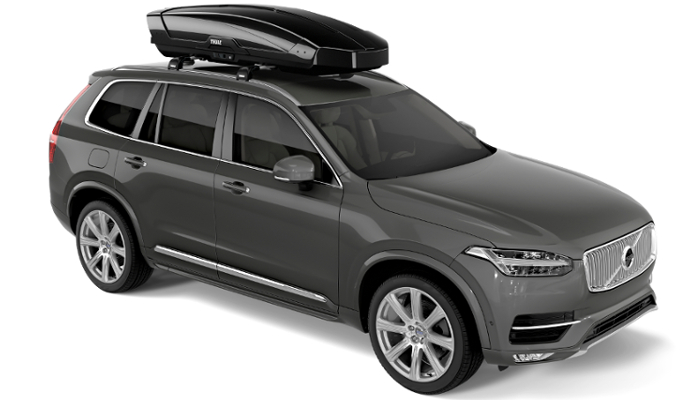 Things to consider when buying a roof box
While there are many factors to consider when purchasing a roof box we have highlighted the most important considerations below:
How much stuff do you want to carry? Determining how much or what type of stuff you want to carry in a roof box is a top concern. Knowing the type or quantity of gear you wish to carry will help to determine how large of a roof box you will need. If you plan on carrying skis or snowboards inside the box knowing the length of your skis or board is very important. Also, make sure to consider your future needs such as a growing family or participation in future sports.
Fitment to your vehicle? The size of box you will want to put on your vehicle is largely dependent on the size of vehicle, the type of roof rack you have or will have, and what we call hatch clearance. At Racks For Cars we always like to make sure the box you purchase will allow you to open the rear hatch of your vehicle; that way you do not limit access to space you already have and you won't cause damage to your vehicle or roof box.
How often will you use the roof box? Do you ski or go camping multiple times a year or do you make one big family trip per year? The price of a roof box will vary based on the quality of the box. We find that better quality boxes tend to last longer and are more user friendly. Here at Racks For Cars we try to have options for everyone's budget and will work with you to find the best option.
What features are important?
Roof boxes are available in many shapes and sizes but they also have many different features. Below we will discuss the most important features to look for in a roof box.
Single or dual side opening – Being able to easily access your gear inside of the box will make your life much easier. Some boxes are only single side opening (passenger side) while other boxes can be opened from either side of the vehicle. Dual side opening boxes not only make accessing your gear easier but they also make the installation and removal easier.
Durability of the roof box – Roof boxes will often vary in how they are manufactured and constructed. Better quality boxes will use thicker plastic or have re-inforcements inside the box to increase the stiffness of the plastic. A box with stiffer plastic is easier to open and close, lasts longer, and is less prone to cracking.
Type of mounting hardware – The type of mounting hardware a box uses will change how easy it is to operate when installing and removing the box. Brands such as Thule or Yakima use quick release mounting systems which do not require tools and can be done by one person. Other brands such as SportRack use simpler mounting systems such as u-bolts and wingnuts which take longer to install and often require two people.
Size of the roof box – As discussed above, the size of the box you purchase will depend on how much gear you need to carry and how large of a roof box you can fit on your vehicle. Roof boxes are measured based on how much volume they hold. This measurement is expressed in cubic feet and they range in size from 8 cubic feet to 22 cubic feet. While it may be hard imaging how much volume a box holds while browsing online you can use this number to compare the size of boxes. Again, we display nearly 30 different roof boxes in our showrooms making it very easier to compare sizes and features.
Is brand important?
We often get asked if when buying a Thule or Yakima rack are you just paying for the brand name. While popular brands in any product type from yoga pants to bikes and to cars are often more expensive it is never just because of the name. Through our nearly 30 years of business we have seen many brands come and go while Thule and Yakima have been successful the entire time. These brands are successful because they make quality products, they adapt to changing market, and they put more focus on design and engineering than others.
Premium brands such as Thule and Yakima also back their products with lifetime warranties, parts support, availability of replacement keys, and excellent customer service.
While the main reason you purchase a particular product should not be the brand it is important to understand what support a brand offers throughout the time you own the product.